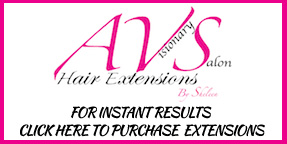 We are excited to introduce to you


INSTANTOMBRE, INSTANTLENGTH & INSTANTVOLUMIZER


A Visionary Salon exclusive. A super easy way to add the Ombre effect, highlights, length and or thickness to your hair with no chemicals
Also
,
INVISIBLEND


An amazing new process to give you fuller thicker hair! No matter what your hair issue is we can help you!!!
WE CAN MAKE YOUR DREAMS COME TRUE!!
Sheleen, our specialist has over 25 years of experience in the Hair Extension and Restoration business.
She is a licensed, certified trainer in several exclusive methods.
At A Visionary Salon, we will present to you the latest trends and the safest methods available for HAIR EXTENSIONS, HAIR ENHANCEMENT, and HAIR REPLACEMENT. We also provide Hair Color, Keratin smoothing treatments, Thermal and Japanese Straightening & Styling techniques.
We are committed to providing the best services for your needs. Whether it is a simple cut or complete new look, we can help you find just the style you are searching for.

DON'T BE FOOLED!!!
There are many people who can put extensions or a hair system in your hair but, not many that have expertise we provide. We source the best quality human hair, we are experts at color matching, we strive to educate you on how to maintain healthy strong hair, while wearing hair extensions or a hair systems.
WHEN DONE AND MAINTAINED PROPERLY, THESE CAN BE AN AMAZING WAY TO GROW YOUR OWN HAIR LONG, MAKE LIMP LIFELESS HAIR LOOK AMAZING, OR EVEN THICKEN AND ENHANCE THIN, DAMAGED HAIR.
LOOK FOR A KNOWLEDGEABLE HAIR EXTENSION ARTIST OR A QUALIFIED HAIR RESTORATION TECHNICIAN
AND ASK QUESTIONS!!
REQUEST CERTIFICATION AND LICENSURE. REQUEST TO SEE BEFORE AND AFTER PHOTOS. FIND OUT HOW LONG THEY HAVE BEEN DOING HAIR EXTENSIONS OR HAIR RESTORATION.

We research the latest innovative techniques to provide you with the best products and services. We are always on the lookout for exciting new styles and fashion ideas to bring out your very best look.
Ask about our new ready to wear line of hairpieces and wigs
InstantOmbre,InstantLength & InstantVolumizer. Also, our custom options. Invisablend, Cyber systems and Human hair systems.


Visit Pinterest's profile on Pinterest.